By: Jacob DeFlitch (@WxDeFlitch)
Amazing sunrise this morning from DCA @capitalweatherpic.twitter.com/BL5cLGjOw1

— Igor Bobic (@igorbobic) March 12, 2016
Washington D.C. to Chicago woke up to a stellar sunrise Saturday morning as clouds approached the region from the south. Twitter soon became the foundation for sunrise photographs across a 900 mile stretch of land. Our sunrise prediction for Saturday morning (below) verified well with what transpired this morning.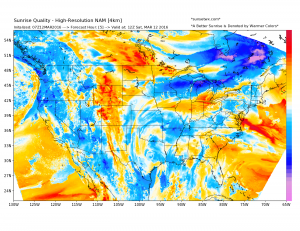 This morning's brilliant sunrise over #DC taken with my iPhone
(@sunset_wx @capitalweather) pic.twitter.com/8k3lEB33j8

— Richard T. Portwood (@RichardPortwood) March 12, 2016
Incredible sunrise today in DC pic.twitter.com/dPdZilJiql

— Isabel Lara (@isalara) March 12, 2016
Anacostia Dawn @capitalweather @JimCantore @AnacostiaBID @ABC7News @StormHour @sunset_wx @NatGeoPhotos @CBSDC @wusa9 pic.twitter.com/DdFMpdQuAg

— Jim Havard (@JimHavard) March 12, 2016
Beautiful sunrise to send us off from DC. Headed to Phoenix for spring break! pic.twitter.com/puAVsnbG5G

— Charles Scheinost (@CoachScheinost) March 12, 2016
Absolutely breathtaking sunrise in Columbus, Ohio this morning! ☀️ pic.twitter.com/O1Xgrt9EJT

— Lori (@lajp0623_g) March 12, 2016
Good morning #Chicago! #sunrise
With @cwhl_org at @AmericasBeautyShow! #CutPassLove #AmericasBeautyShow 💖💇✂️💙 pic.twitter.com/oji6jgsjpO

— risa balayem (@risapr1) March 12, 2016
Early morning errands are giving me ALL the feels for my city. #chicago #sunrise #skyline #WESTloop pic.twitter.com/CVBvpscnTV

— MEL!SSA (@MELISSABILLIONS) March 12, 2016
Saturday Chicago Shoreline Sunrise #weather#sunrise#Chicagopic.twitter.com/Obh8t64NMW

— Barry Butler (@barrybutler9) March 12, 2016
And the color continued to stream into Canada, as Toronto woke up to a colorful display.
Beautiful sunrise over the @CityBrampton this morning. High of 16° today in #Toronto. pic.twitter.com/qviipH9nnV

— Jeremy Cohn (@JeremyGlobalTV) March 12, 2016
#Sunrise#riseandshine#toronto#cntower#saturday#myviewpic.twitter.com/AguG7lT6Ft

— Adam (@Adam_Caplan29) March 12, 2016
Thanks to everyone who helped verify our forecast today!
Follow @sunset_wx for continued updates on future sunrises and sunsets.